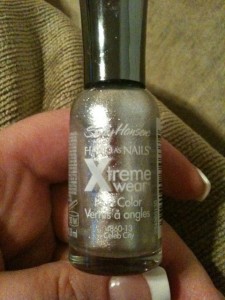 I wanted to get silver foil Minx nails for my vacay to Bermuda, but you know how crazy things get before leaving for a vacation (and how much money is flying out the wallet). Instead of trying to track down someone to do a silver foil Minx pedi, I decided to grab this silvery metallic nail polish from Sally Hansen during a last minute Target run. It is a happy, bright sparkly silver instead of some of the duller, metallic greys I've seen.
This polish – called Celeb City – is awesome. Not only did it give me the silver "robot toes" look I wanted, but it lasted through afternoons at the pool and salty beaches and endless days in sandals… for a total of 5 weeks! That is Xtreme wear indeed!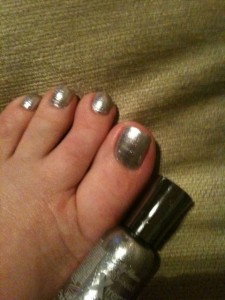 Yes! Get your own silver robot toes: Sally Hansen Xtreme Wear Hard As Nails polish in Celeb City at CVS ($2.99). Tip – Use a high-gloss top coat to really get the silver shine.