On a recent trip to the fab Swag jewelry store in NorthPark Center, we happened upon the heavenly Tribal Crystal Milagro Pendant ($295) & Tribal Bicone Necklace ($317) by Virgins, Saints, & Angels. These necklaces are amazing on their own, but they are a real show-stopper when stacked together.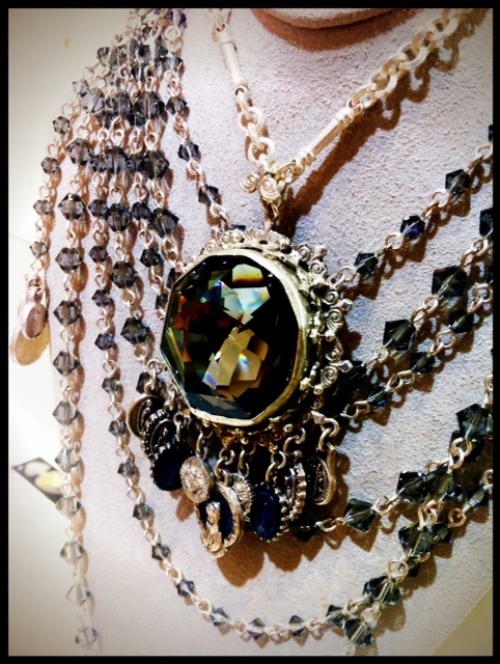 The delicate strands of black diamond crystals on the Tribal Bicone Necklace provide a lovely backdrop for the large Tribal Crystal Milagro Pendant. Not only is the large scale of the black diamond crystal pendant impressive, but we were mesmerized by the unusual cushion cut of the center stone and the blessed Vatican coins that dangle from the bottom of the pendant. I am envisioning wearing these beautiful, hand-crafted pieces with–everything!
The beauty of these objets d'envy is they are special enough to accompany a cocktail dress, or you can wear them every day for a chic sense of spirituality. Purchase these two dazzlers as-is, or customize your own piece with choice of medallions, finish, crystal colors, and more. Contact owner Lisa Alfieri at the Dallas location of Swag 214-691-0123. Pieces are also available online at www.lovemyswag.com.