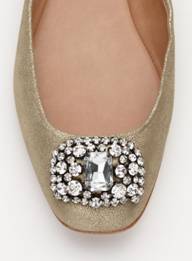 Usually when I look for the sale pick to write about, I go straight to the jewelry section. Today, I'm feeling saucy and decided to look in the shoes for the bling pick today. Now I don't get as excited about the coming of fall shoes… I LOVE winter color palettes, but I miss the bling-covered options we see for summer. Maybe this fall will be different? Enter the Leonie Embellished Glitter Suede Flat to save the day. This metallic gold suede flat features a brooch-like set of faceted rhinestones on a rounded square toe. In the picture, the gold suede appears to be a subtle metallic and not truly glitter as the name suggests. If the color of the gold leather is too bright or too glittery (yep, I said it), then this flat could cross over into tacky territory. Let's hope the real thing matches the picture online.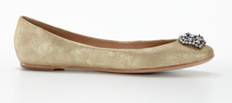 Yes, $158 may feel like a lot for a flat, but it's half the price of the amazing Vera Wang flats I have been visiting for a year. Besides… for a limited time, you can get the Leonie flats for ~$110 during the 30% off of everything sale!
Available at Ann Taylor ($110.60 after 30% off). Through Sunday, get 30% of EVERYTHING during the Ann Taylor Friends & Family sale. Enter FRIENDSFB at online checkout or print the in-store coupon.