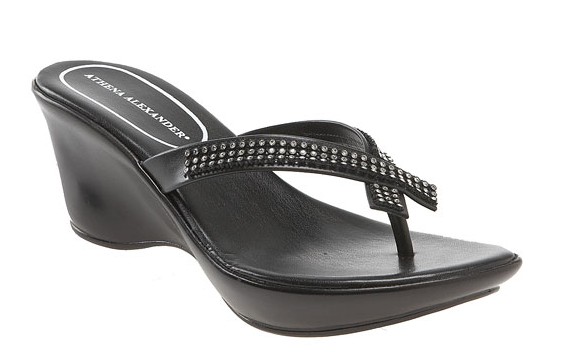 Ok ok… so we all care about comfort, but it's hard to balance being comfy and still being stylish. Yes, there are many lovers of Crocs or Birkenstocks – those have their usefulness – BUT I want to introduce you to a Blingazon-approved option. Shannon (@shannonbrower) introduced me to them, so I am passing along the wisdom.
The picture doesn't do them justice, but many galpals who have also purchased the Roxis (hi Jolene and Patti!) can attest to the sparkly goodness of the Athena Alexander Roxi Wedge Sandals. The Roxis are comfortable (cushioned 2 1/2″ wedge) and super cute. There are cheaper versions of this style, but I stick with Athena because these feature leather and real crystals.
Great everyday, throw-on-and-go sandals: Grab the Athena Alexander Roxi sandals in-store or online at Nordstroms ($69.95 – on sale for $49.90). Available in Black, Bronze, Pewter, White, Champagne, Silver, Coral Patent, Yellow Patent.
IMPORTANT: The Roxi sandals run small. I had to order a full size larger, and all but one of my pals has had to order one size up as well.