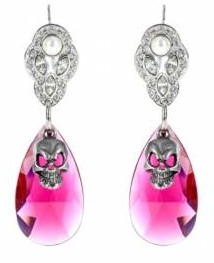 The Red Teardrop Skull earrings by Mawi are a fab way for a rocker-chic fashionista to work in this Fall's ladylike jewelry trend. At first glance, these are pretty classic earrings featuring pearls, CZs and crystals… but then up close… boom!… you see small silver skulls at the top of the red crystal drops.
In the picture, the crystal drops look bright pink instead of red, but either way they are worth a try if you are a rocker girl (or want to unleash your inner rocker girl). Available on Charm and Chain ($156.75). Earrings also available in blue. Necklace versions available as well.
Bling on a Budget: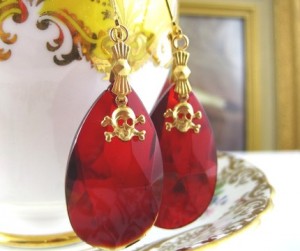 How cute are these?!?! Ruby Chandelier Earrings ($45.00) by Mizdragonfly. Available on the Mizdragonfly Etsy shop. Pendant version also available.