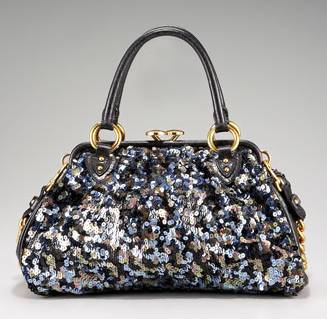 Last year, I was in love with the multi-colored sequin handbags from Miu Miu, so I am happy to see the pretty pretty Tweed Sequin Stam Satchel from Marc Jacobs. I admit that I prefer the rectangular shape of other Sequin Tweed handbags in the collection, but the Stam Satchel does not have the leather flap which visually breaks up the sea of sequins on the other bags. I also wonder if silver-tone or gunmetal hardware would better compliment the multi-colored sequins? Nitpicking aside, I would be thrilled to carry this lunching-lady-meets-bling-queen sequin handbag – day or night!
Ride the sequin waves: Available at Bergdorf-Goodman ($2,350). The satchel is trimmed in black leather with black satin interior lining. Handles have a 5.5″ drop and overall size of bag is 9″H x 15″W x 4″D.
Bling on a Budget: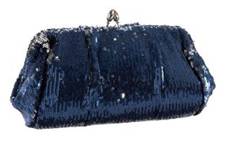 Dazzling Blue Menbur Sequined Clutch ($65.55) available on Endless.com.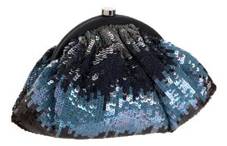 SANTI CPM4462 Clutch ($158.00) available on Endless.com.
Twitterati – Many retailers are trying their hands at Twitter. Follow @Bergdorfs and @MarcJacobsInt on Twitter to see two retailers who "get it".