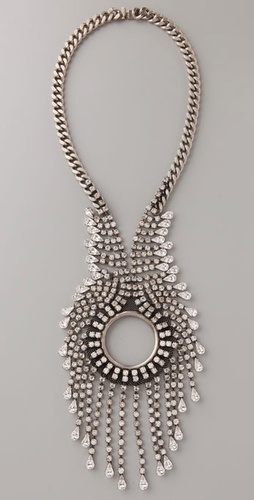 I love DANNIJO jewelry. There, I've said it. I. Love. It. Take a look at the Winslet Necklace above for a peek at why DANNIJO describes their jewelry as "inspired by the sophistication of Audrey Hepburn and the sweetness of Marilyn Monroe." The silver oxide metal is perfectly tarnished (on purpose of course) to keep the piece from looking too cutesy and to balance the insane amount of sparkle from the Swarovski crystals. At 20″ long and a 5″ fringed pendant, this necklace will cascade beautifully down the chest. It's a definite power-statement find, so I would wear it over a solid color with small earrings to truly showcase this piece. The $500+ price may be hard to swing for many, but if you have the means, get this necklace now before it is sold out.
Yes! Get it while you can: The DANNIJO Winslet Necklace is available at Shopbop.com ($524). Only 1 left in stock at shopbop! [Try Net-a-Porter if shopbop sells out.]
Bling on a Budget: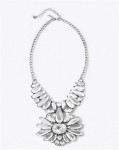 While it's not as long, the general shape and amount of sparkle of Crystal Glam Necklace is reminiscent of the Winslet. It's available at White House | Black Market ($68).

Bonus: Right now, you can buy 1, get 1 piece of jewelry for 25% off at White House | Black Market.